The 'eerie beauty'
beneath the surface of Lake Erie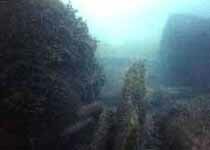 John Lavelle is a local amateur biologist and underwater diver who likes to get up close and personal with the vast world of living beneath the surface of Lake Erie. For years, Lavelle has donned a wet suit and tank and floated among the complex ecosystem found off the coast of Avon Point.
His Web site is a living document of the activity of Avon Point's reef, which was formed by the collapse of the shore's shale cliffs into the lake. There are details of the devastation wrought by the invasion of the Zebra Mussels and Goby, but also passages that remark on the 'eerie beauty' of the reef, ancient river beds, and interesting creaturessuch as freshwater hydras and glowing, green spongesliving in the deep.
Links to the site:
Introduction
Zebra mussels
Rounded Gobies
Planarians (flatworms)
Hydras and jellyfish
Bryozoan
Crustacean plankton
Year 2000 update
Data from 2001
The reef in 2000
Crustacean Copepodsmonthly averages from 1993-2000
The Cladocerans, Bosmina and Daphniaa look at their changing numbers
Rotifers at Avon Point
Animal assemblage
Peritechs
EcoCity Cleveland
3500 Lorain Avenue, Suite 301, Cleveland OH 44113
Cuyahoga Bioregion
(216) 961-5020
www.ecocitycleveland.org
Copyright 2002-2003
Lake Erie is a wilderness, a big wilderness, and it is alive. To take a hand full of water is to take a handful of lifelife that lives in a different physics than we are born to.
John Lavelle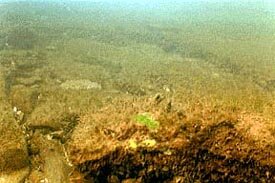 A green sponge is part of a complex ecosystem living
on the shale reef near Avon Point in Lake Erie