Lake Erie
coastal programs
The water quality and habitat quality of Lake Erie depends a lot on what happens around the lakeespecially on how land is used in the coastal area that drains into the lake. Consequently, the Ohio Department of Natural Resources (ODNR) has developed a Coastal Management Program to manage development and protect resources in the coastal zone. The program has strengthened submerged lands leasing to prevent shoreline property owners from taking unfair advantage of public lands under the water.
Projects begun in the past couple years include:
A detailed wetlands inventory that will lead to strategies for protecting priority wetland areas.
A community-based planning process for the Mentor Marsh area to deal with issues such as wetland degradation, invasive species, barrier beach disruption, habitat fragmentation, and conflicting land uses caused by rapid development.
A joint project of ODNR and Ohio EPA to study how to incorporate considerations of cumulative and secondary impacts into permit decisions (for example, officials need to understand how the granting of many routine permits to fill small amounts of wetlands will have a cumulative impact on a watershed; or they need to appreciate how permits to build a highway will have many secondary impacts on surrounding communities, as the highway enables increased development).
The development of recommendations by the ODNRs Division of Soil and Water Conservation on how to preserve the natural water flows in small streams that are impacted by development.
A study by the Lake County Soil and Water Conservation District on ways to protect the Arcola Creek watershed.
For more information about coastal programs, call 614-265-6391.

EcoCity Cleveland
3500 Lorain Avenue, Suite 301, Cleveland OH 44113
Cuyahoga Bioregion
(216) 961-5020
www.ecocitycleveland.org
Copyright 2002-2003
Ohio's lakefront at risk: Analysis of HB 218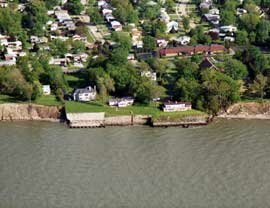 The Lake Erie coastal zone is a dynamic place where one person's shoreline protection can undermine a neighbor's property.