Rating the suburbs?
Every June, Cleveland Magazine publishes its Rating the Suburbs issue, a popular feature that ranks the most desirable communities in Northeast Ohio. This years top five suburbs Mayfield Village, Chardon, Solon, Brecksville, and Pepper Pike are typical winners. They are outer-ring suburbs (with the exception of Chardon, the county seat of Geauga County) with lots of expensive homes and schools that perform well on proficiency tests. Not coincidentally, they also are the kinds of places with an abundance of wealthy homeowners prized by the magazines advertisers.
Snubbed by the rankings are older, inner-ring suburbs. (City neighborhoods arent even ranked.) They rank low because the ranking system doesnt give many points for doing the hard work of addressing the regions aging infrastructure needs and social and economic problems.
With this in mind, here are a few ideas for a more balanced ranking system a system that would recognize qualities that make the region more sustainable and just.
Fair measures of education School performance is highly related to the socio-economic background of students families. To be fair, we should give bonus points to school districts that successfully raise up children from impoverished backgrounds (recognizing progress from low starting points, not just final standards of proficiency). This is essential work for the future success of the entire region.
Affordable housing Instead of recognizing suburbs that maintain high housing prices largely through exclusionary zoning, we should recognize suburbs that offer a range of housing prices and opportunities. Its not fair for people of modest means and renters to be restricted to just a few communities.
Historic neighborhoods and public spaces Older communities have many of the regions architectural treasures and great public spaces. This built environment should be recognized for its quality and seen as a regional asset to be maintained.
Population density Communities should get extra points for higher population densities. Sprawling, low-density suburbs consume more land and force people to be more dependent on their cars, use more energy, and produce more air pollution. Compact, walkable neighborhoods can meet peoples needs with less impact on the environment.
The Rating the Suburbs issue raises questions about what we value as a region. While all ranking systems involve difficult choices about the selection of measures and the availability of data, its important that they do so with awareness of the underlying values.
The key question we should be asking when ranking our suburbs is how each community contributes to the overall quality of life and sustainability of the region. Some communities are shouldering greater burdens, and they deserve everyones respect and support.
EcoCity Cleveland
3500 Lorain Avenue, Suite 301, Cleveland OH 44113
Cuyahoga Bioregion
(216) 961-5020
www.ecocitycleveland.org
Copyright 2002-2004
Valuing America's First Suburbs report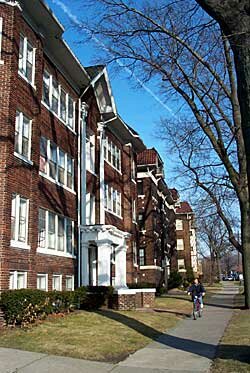 Examining biases: Older communities deserve the region's respect and support.