The smart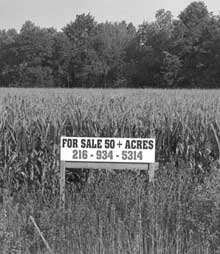 growth
challenge

The Ohio landscape is being transformed before our eyes.Cornfields and woodlots are being turned into strip malls, subdivisions, and suburban industrial parks. Historic small towns are becoming booming suburbs. Overall, the state's metropolitan areas are spreading outward into the surrounding countryside at a rate almost five times faster than population growth. And state government policies and programs are actively promoting this rapid process of land consumption.
In response, we've seen a rising tide of concern about land-use problems in Ohio. Residents of older cities and suburbs are realizing that the "growth" at the edges of metropolitan areas is often just outmigration from the urban corea costly and destructive shell game of population and tax base that undermines the long-term investment society has made in existing communities. Residents of the new boom towns are finding that unmanaged growth often brings sudden demands for city services, higher taxes and the loss of the rural character that attracted them to the country in the first place. Environmentalists are understanding how the way land is developed impacts air quality, water quality, and energy use. Opinion polls are showing that people see the wisdom of maintaining existing communities and preserving open space.
Ground swell of concern
In the past several years, we have seen these concerns surface in the work of many organizations:
Concerns about the loss of productive farmland became the focus of a governor's task force on farmland preservation and then became specific legislative proposals.
The inner suburbs of Greater Cleveland and other metropolitan areas of Ohio have organized to address the unbalanced public investment that favors new development over maintenance of older communities.
Transportation planners are realizing that they can't keep expanding highways to solve the traffic congestion problems of rapidly expanding metropolitan areas.
The Catholic Diocese of Cleveland has initiated its "Church in the City" project to speak out about the moral and social implications of abandoning older urban areas.
Studies by the Ohio EPA and the Northeast Ohio Regional Environmental Priorities Project have named urban sprawl a major environmental threat.
Historic preservation groups have called sprawl the biggest threat to historic neighborhoods and rural landscapes.
Home builders have begun to criticize large-lot zoning in suburbs, which forces builders to consume land in unnecessarily large chunks.
Groups from the Sierra Club to the League of Women Voters are studying suburban sprawl and are educating the public about its costs.
And many other citizen groups have sprung up to fight the construction of wider highways, new interchanges, and sewer linesthe public infrastructure that opens up new land for development.
In all this, the State of Ohio has played a contradictory and frustrating role. Various state agencies influence land use and development in an uncoordinated manner. There's no unifying vision. And, in the absence of a clear vision, the undeclared but de facto state policy has been to open up practically every acre of the state for developmenttake our population and employment base and smear it over the state in a thin film, ignoring the devastation left behind in older communities, ignoring the infrastructure costs we are passing on to our children, ignoring the environmental damage.
It doesn't have to be this way. Other statesfrom Maryland to New Jersey to Washingtonhave adopted "smart growth" programs that seek to rebuild older urban areas, reduce subsidies for urban sprawl, and preserve open space and farmland. It's time for Ohio to catch up with such initiatives so it can compete in the 21st century.
Drafting a Smart Growth Agenda for Ohio
As a nonprofit environmental planning organization, EcoCity Cleveland promotes a vision of ecological cities existing in balance with their surrounding countryside. We want sustainable patterns of developmentdevelopment that our children can afford, development that will preserve the natural resources upon which all life depends.
With the support of the Katherine and Lee Chilcote Foundation, we have undertaken this Ohio Smart Growth Agenda education project to accomplish three things:
1) Explain how a smart growth initiative, perhaps similar to the one recently adopted in Maryland, could be adopted in Ohio. One attractive feature of the Maryland model is that it does not take a regulatory approach. Instead, it harnesses the power of state investment to support and focus development in existing urban areas. It admits that the state cannot afford to subsidize another generation of sprawl.
2) Rally citizens around a positive agenda for change. Many groups have spoken out against present land-use trends. Now is the time to offer solutions.
3) Convince Ohio's next governor to provide leadership on the issue. The states that have made progress on growth management have had strong gubernatorial leadership. Ohio's next governor can make a big difference.
To help us draft our Smart Growth Agenda, we retained the American Planning Association's (APA) Research Department in Chicago. The principal author of the working paper, Stuart Meck, AICP, has been the principal investigator for APA's Growing Smart projecta multiyear effort to draft the next generation of model planning and zoning legislation for the U.S.and therefore is a specialist on the planning and land-use programs of the 50 states. In addition, he is especially knowledgeable about Ohio. He has worked as a planner in the state and has co-authored a treatise on Ohio planning and zoning law. Thus, he is ideally positioned to help us think through, in an objective manner, how to adapt a smart growth program to Ohio's statutory and political situation.
In the "Ohio Smart Growth Working Paper" found in this section of the site, Meck, assisted by Jason Wittenberg, an intern in APA's Research Department, analyzes the barriers to smarter growth policies in Ohio, summarizes the progressive programs of other states, and recommends policy changes. He concludes by recommending a process for adopting a Maryland-style Smart Growth program.
During July and August 1998, we circulated a draft of this document to interested people throughout the state. We received thoughtful comments from planners, elected officials, environmentalists, home builders, university faculty, and other civic and religious leaders. We incorporated as many of the comments as possible in the final draft that appears here.
We see this as an educational work in progress, and the recommendations will continue to evolve. We hope to raise the issues, inspire people to think about alternative land-use policies, and point a way forward.
A pro-development vision
One point needs to be emphasized: a Smart Growth program is not anti-growth. It simply means state support of a different kind of growthdevelopment that does more to maintain existing urban areas and that can be more easily sustained in the long run.
As Cleveland Bishop Anthony Pilla has said, "I am not opposed to new development, but ask for a greater balance between new development and redevelopment. So-called urban sprawl has been subsidized by billions of public dollars. Unbalanced public spending has harmed our urban neighborhoods, begun to imperil our first tier of suburbs and threatens the essential rural character that long characterized so much of northeastern Ohio. We cannot continue down a path of unplanned, wasteful, subsidized development and land use that pits our region's communities against one another without, in my opinion, causing serious economic, environmental, social and moral harm."
In other words, we want development in Ohio. We need to keep developing, redeveloping, and improving our communities in many ways. But we need to be more thoughtful about the location and form of that development.
Although home builders, road builders and construction workers may initially oppose smart growth policies, they should have nothing to fear. There's enough work to keep everyone busy for a long time to come.
Social engineering?
Another point needs emphasis, too. The goal of smart growth policies is not to force people back into the cities against their will. Nor is the aim to prohibit development in certain areas or to criticize people for moving to the country.
It is appropriate, however, for the state to make distinctions about where it wants to promote development to promote long-term economic and environmental health. Indeed, it is the state's responsibility to set priorities that promote the general welfare. Only the state can do this. The fragmented patchwork of local governments in our metropolitan areas are incapable of cooperating without strong state direction.
In recent decades, the "social engineers" in the state (and federal) government have created a host of policies that promote sprawl at the edges of metropolitan areas over the redevelopment of older communities. Every time a new highway or interchange is constructed, for example, it sends a powerful signal that development is desired in a particular location.
Increasingly, we are seeing that such policies are wasteful and costly in the long run. It's time for different priorities that tilt the balance of development in the direction of greater stewardship. We need to support existing cities and townsmake them so wonderful that people won't want to move out.
A time to choose
We have a choice in Ohio. If we let past patterns continue, land consumed by development will increase at an even faster pace, necessitating costly new roads, sewers and schools. Smart planning and improved regional cooperation are needed throughout Ohio to accommodate this development in a cost-efficient way while improving quality of life for residents. If we change nothing, open space and agricultural land will continue to be depleted at an alarming rate, older communities will be undermined by outmigration of jobs and population, and air pollution levels and time wasted in traffic jams will erode regional economies and the health and productivity of our workforce.
The alternative is to focus our resources, our incentives, and our policies to promote development where it will be an enduring asset for all Ohioans. The state must help channel growth into more sustainable forms. It's a matter of fiscal responsibility, good stewardship, environmental quality, and fairness to the majority of property owners in the state. And it's a matter that should transcend the partisan politics that makes fundamental change so difficult to achieve in Ohio.
The stakes are high. Many other states are moving ahead of Ohio on these issues. It's time to take a stand for the long-term future of our state. It's time to believe in Ohio as a special place worthy of our affection, worthy of our care.
EcoCity Cleveland
3500 Lorain Avenue, Suite 301, Cleveland OH 44113
Cuyahoga Bioregion
(216) 961-5020
www.ecocitycleveland.org
Copyright 2002-2003