Smart growth examples
The Fries & Schuele Block development on W. 25th Street in Cleveland won "Best of Show" at the Smart Growth Community Excellence Awards program hosted by the Northeast Ohio Home Builders' Smart Growth Education Foundation on October 22, 2003. The program is designed to recognize those builders, developers and community organizations that follow smart growth principles in building housing in both urban and suburban locations.
The winners were chosen from entries representing an 11-county area of Northeast Ohio on the basis of the developments site selection and land conservation, environmental sensitivity, use of infrastructure, housing choices, community character, transportation accessibility, and overall design.
The winning builders and developers were:
Urban Setting, Mixed-Use Developments of less than 20 acresNew Village Corporation for its Fries and Schuele Block Development, Cleveland.
Urban Setting, Multi-Family Developments of 50 units or more(a tie) The Coral Company for The Courtyards of Severance Development in Cleveland Heights and City Architecture and Coffin Lakeside Ventures for the Quay 55 Development, Cleveland.
Urban Setting, Multi-Family Developments of less than 50 unitsDetroit Shoreway Community Development Organization for its EcoVillage Townhomes, Cleveland.
Suburban Multi-Family Developments of less than 50 unitsDonald L. Barr and Company for The Crossings of Pond Brook, Reminderville in Summit County.
Development ProposalsThe Homestead Group, Inc. for The Homestead, 162-unit development under construction, Aurora, Portage County.
It is important that we recognize organizations that are making the best use of our land and our natural resources by using todays smart growth building techniques to develop our residential areas. There is only so much land, and it has to be used wisely for housing, farming, retail/commercial, business, recreation, and natural preservation purposes, stated Joe Scaletta., chairman of the Smart Growth Education Foundation.

EcoCity Cleveland
3500 Lorain Avenue, Suite 301, Cleveland OH 44113
Cuyahoga Bioregion
(216) 961-5020
www.ecocitycleveland.org
Copyright 2002-2003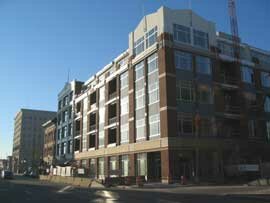 Best in show: Fries & Schuele Block on W. 25th Street.