Restoration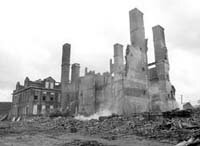 inside and out
In February 1995, EcoCity Cleveland was privileged to join the Community Coalition to Stop the Mart (the group fighting a proposed superstore development on the site of Oakwood Country Club in Cleveland Heights and South Euclid) and the Cleveland Restoration Society in sponsoring a speech by Constance Beaumont of the National Trust for Historic Preservation.
In recent years, the Trust has been an outspoken critic of superstore sprawlthe low-density, land-consumptive, auto-oriented, commercial development on the fringes of metropolitan areas. Sprawl from Wal-Marts, Super Kmarts and similar big box stores, shifts a town's center of gravity from the urban core to the edge, Beaumont said. The result is not economic growth but displacement. And this undermines efforts to revive historic city centers and neighborhoods.
"It's like trying to fill a pool with a small hose when there's a big hole letting the water run out," she said.
Increasingly, historic preservationists are realizing that they will never win their battles unless they also address sprawl and outmigration at the regional level. So they are finding common ground with the many other people and organizations harmed by current patterns of development. (For a list of the constituencies who might be part of an anti-sprawl coalition, see Constituencies.)
The following article on this topic is by Ted Sande, president of the Cleveland Restoration Society. It is reprinted from the Society's May 1995 newsletter.
By Ted Sande
There are many dimensions to the preservation of our city. Some of the important issues that concern us are not even in the city itself, but on its fringes. What happens on the edges of Cleveland affects the survival of its historic structures and neighborhoods just as dramatically as if these changes were made in the core of the inner city itself.
This is why we were delighted to join with the Community Coalition to Stop the Mart, EcoCity Cleveland and others in co-sponsoring a presentation by Constance Beaumont, the National Trust for Historic Preservation's director of State and Local Policy programs, in late February that addressed the question of "superstore sprawl." The more I thought about it, the more clearly it seemed to me that we cannot draw a sharp distinction between the suburbs and the city when it comes to real estate development. What happens in one area will have profound ramifications in the other, and we should be conscious of this fact and learn how best to deal with it.
We all know, of course, how commercial and industrial land development on the edges of older cities has sucked the juices out of their urban centers over the past 40 years. Unfortunately, that trend is, as they say, "history," and we are left now trying to restore strength to these weakened urban centers. Bringing them back to what they were intended to be all alongplaces for people to live and work and enjoy lifeisn't easy. But historic preservationists must accept this challenge, if we are intent upon saving the best of our heritage.
Many of us have recognized for decades the disorder of strip commercial development along suburban roads. Now, it appears, the problem has shifted away from the sides of the road to the fields beyond. Seemingly overnight, huge retail complexes spring up. These "superstores" are located on sites that are very carefully selected, using highly sophisticated analytical techniques that pinpoint the optimum location from a purely economic standpoint. However, they are rarely thought out with respect to their surroundings. And they seem invariably to create traffic congestion and hazards on the adjacent arteries and increased environmental pollution where they are built.
This is both ironic and tragic. Ironic, because community planning and environmental concerns are no less tangible than the demands of successful retailing. Tragic, because a more holistic, regional approach to locating essential retail centers need be no more costly initially than the present scatter approach, and it undoubtedly would save all of us money in the long run by bringing economies of scale in community services.
The Cleveland Restoration Society seeks primarily to save the best of our city's older buildings, its viable urban neighborhoods, and its historic districts. In pursuing this mission, we must be equally vigilant in recognizing the peripheral forces that could have an adverse effect upon Greater Cleveland. Increasingly, due to the example we have set within the city, we are being called upon to assist those outside its boundaries who want to maintain their architectural heritage and plan intelligently for the future. As we begin to do so, we reaffirm the fact that the basic relationship between a city and its suburbs is one of healthy reciprocity.
The Cleveland Restoration Society looks forward to working with our suburban counterparts in shaping a better region for us alla region where Cleveland's historic urban core is recognized once again as the essential, vital complement to its surrounding communities.
EcoCity Cleveland
3500 Lorain Avenue, Suite 301, Cleveland OH 44113
Cuyahoga Bioregion
(216) 961-5020
www.ecocitycleveland.org
Copyright 2002-2003