Invasion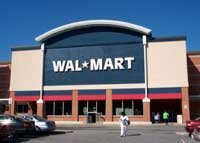 of the
sprawl-marts
By Jordan Yin
"Cleveland's retail outlets are decentralizing" was the conclusion of the Real Property Inventory of Metropolitan Cleveland, a study published in 1942. Today, retailing continues to sprawl ever farther in Northeast Ohio, consuming land and adding to the built environment at a scale disproportionate to the area's slow growth in population and income.
The latest retailing boomgenerally taking place outside of Cuyahoga County's I-271/480 beltwayadded 940,000 square feet of shopping center retail space in 1994. That brought the region's total to 48 million square feet, with another million expected to be built in 1995.
Big box invasion
Retail sprawl in the 1990s saw the invasion of the "category killers" (like Best Buy, Circuit City and Borders bookstores) and the "sprawl-mart" superstores into Northeast Ohio. Wal-Mart stores led the superstore invasion in 1992 by opening eight stores in Northeast Ohio, and by 1993 two more mega-chains, Meijers and Target, were each looking for up to a dozen sites for their 120,000- to 240,000-square-foot superstores.
The rapid rise of the sprawl-marts was facilitated by weak suburban and rural zoning, as well as by a number of suburban and exurban authorities looking to add to their property and sales tax bases. Additionally, large-scale retail real estate development was aided by low interest rates and a surge in Real Estate Investment Trust (REIT) activity.
REITs are private development companies that generally do not pay federal corporate income taxes due to their "trust" status. For example, one local REIT, Developers Diversified Realty Corp. of Moreland Hills, built a Wal-Mart in Macedonia, a Target in Stow and many other retail suburban retail projects under their tax-favored REIT statusyet another hidden subsidy for sprawl.
This latest round of retailing was mostly unexpected and pointed to the region's lack of metro-level planning. For example, the City of Cleveland's Civic Vision 2000 comprehensive plan published in 1987 presumed that "the increasing saturation of the suburban retail market is creating a renewed interest in central city locations on the part of major retailers." When the sprawl-marts arrived, however, neither Target nor Wal-Mart located in the city.
The costs of retail sprawl
The primary attraction of more, bigger retailing is the potential for more revenue for towns and savings for shoppers. But the economic and environmental consequences have generally outweighed the benefits.
Large-scale retail generates a number of environmental concerns, including the consumption of open land, the addition of more impermeable asphalt leading to increased water pollution and soil erosion, and the concentration of auto traffic leading to increased air pollution and fuel consumption.
In economic and fiscal terms, a number of reviews indicate that superstores are a costly proposition. A recent "full-cost accounting" study by Vermont's Environmental Board found that a 120,000-square-foot superstore could be expected to generate $3 in public costs for every $1 in public benefit, as well as cause net job losses for the community. Fundamentally, when income and population are not growing, new superstores have the effect of squeezing out existing, smaller businesses.
While the development of new superstores in the region has slowed, secondary sprawl of more retail and housing will occur near the sprawl-marts. Where the superstores have followed small population shiftsas did Macedonia's Wal-Martthe increased availability of services will encourage even greater sprawl in coming years, driving up public costs for schools, roads and other services. It is these areas that will need to be especially careful in managing (and limiting) their future growth.
Fighting sprawl-marts and winning
Communities across Northeast Ohio hardly took the superstore invasion lying down. Concerned residents from Westlake to Tallmadge to Chardon turned out to battle the sprawl-marts. In Broadview Heights, residents voted down a rezoning for a 230,000-square-foot Meijers store. The Meijers chain later scrapped its Cleveland area expansion plans entirely.
Residents of Cleveland Heights and South Euclid successfully protested a massive, 800,000-square-foot sprawl-mart strip mall development that would have hurt the aging Severance Center mall and destroyed a 170-acre green space [Editor's note: Wal-mart and other big box retail eventually was accepted as part of a redeveloped Severance Mall, thus preserving the green space]. Through protests, petitions, public forums, legal challenges and by helping cities to adopt sensible development polices citizens can prevent destructive development.
The best offense is a good defense
The best way to fight retail sprawl is to prepare for it by making sure that your town is prepared for long-range planning, critical areas protection, transportation planning, historic preservation and targeted economic development. Land-use regulations and comprehensive plans should reflect a reasonable opportunity for growth that balances economic and environmental needs.
Organizations such as the National Trust for Historic Preservation have a wide variety of resources available to communities and citizens interested in preserving historic places. A key priority of many communities is to preserve their open spaces free from development. The Trust for Public Land recently helped the community of Billerica, MA, put together a plan for public acquisition and permanent conservation of an open space that was threatened by superstore development. Lastly, targeted economic development efforts can aid in the re-use of existing buildings and encourage the renovation of aging, inner-ring suburban shopping centers.
While town-by-town solutions are essential, regional and state level initiatives could also play a crucial role in stemming the tide of retail sprawl. The invasion of six Wal-Mart stores into rural Lancaster County, PA, led the county to adopt an urban growth boundary to contain future development to appropriate areas. A state growth management act, like Vermont's Act 250, would help communities understand the true costs of sprawl and force cooperation between usually competitive suburbs. A state-level historic preservation act (often called a "little 106" after the federal act) would help communities better preserve their heritage areas.
The sprawl-mart invasion has taken Northeast Ohio by storm, and its full consequencesnew demands for public services, abandonment of older stores and malls, more housing development and increased auto usewon't be seen for several years. Citizens have proven themselves successful in fending off some unwanted destructive developments and must continue to be vigilant in their efforts. In the long run, however, a sustainable future lies in regional cooperation and new tools that can encourage balanced development.
Jordan Yin helped lead the fight against a proposed superstore development at the Oakwood Country Club site in Cleveland Heights and South Euclid.
EcoCity Cleveland
3500 Lorain Avenue, Suite 301, Cleveland OH 44113
Cuyahoga Bioregion
(216) 961-5020
www.ecocitycleveland.org
Copyright 2002-2003