Farms on the edge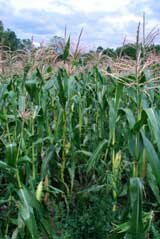 According to U.S. Department of Agriculture estimates, more than 2 million acres of productive farmland are being permanently converted to nonagricultural uses each year, much of it the result of sprawling, poorly planned growth patterns on the urban edge.
The ultimate cost of this displacement could be significant. Urban-edge farmland now generates 56 percent of gross U.S. agricultural sales...Measured on a dollar per acre basis, farmland in urban-influenced counties is more than two and a half times as productive as other U.S. farmland.
Urban sprawl is wasteful, expensive and unnecessary. If it is allowed to go unchecked, the nation will lost some of its best and most productive agricultural capacity. We will increasingly come to rely on foreign countries for fruits, vegetables and other commodities, which will weaken the one industry where we still have a clear advantage. Agriculture will be forced onto marginal land that requires more fertilizers, pesticides and irrigation and is more expensive to farm. And scenic countryside and precious wildlife habitat will be lost...
All levels of government must work together to prevent the onslaught of urban sprawl...States should adopt policies to protect strategic farmland and strengthen their right-to-farm laws. Local governments must provide zones for the long-term protection of strategic agriculture and develop growth management programs that avoid sprawl and minimize farm annexations. State and local governments without farmland protection programs should establish them and direct development to areas where it can be more efficiently served by existing infrastructure.
Excerpted from a column by Ralph Grossi,
president of the American Farmland Trust
EcoCity Cleveland
3500 Lorain Avenue, Suite 301, Cleveland OH 44113
Cuyahoga Bioregion
(216) 961-5020
www.ecocitycleveland.org
Copyright 2002-2003