Our process
for the Bioregional Plan
Over two years, the staff of EcoCity Cleveland developed the Citizens' Bioregional Plan through a process of GIS (geographic information system) analysis and citizen involvement. GIS allowed us to process vast amounts of data about land use trends and then produce computer-generated maps of alternative scenarios. Most of the data came from local planning agencies, park districts and universities. We had help on technical mapping issues from a technical advisory committee of local GIS experts and from the Northern Ohio Data and Information Service at Cleveland State University's College of Urban Affairs.
We presented preliminary maps and concepts at 30 meetings throughout the region. The meetings were hosted by environmental groups, land trusts, soil and water conservation districts, planning agencies and other organizations (see list below). Near the end of the process, we held four public meetings (in Cleveland, Akron, Elyria and Kirtland) to obtain final citizen comment on the draft plan. In all, nearly 1,000 people attended the meetings.
The completed plan was presented at a Citizens' Bioregional Congress in Cleveland on May 15, 1999. About 200 citizens from around the region attended to ratify the plan, pledge to support its implementation, and generally celebrate the bioregion.
Since then, EcoCity Cleveland has continued to promote the ideas contained in this plan. And we are developing projects to support implementation.
Community meetings
The following organizations kindly hosted presentations of the draft Citizens' Bioregional Plan between May 1998 and April 1999. (Listing here does not necessary imply endorsement of the final plan or its recommendations.)
Black Brook Audubon
Cleveland State University, Center for Neighborhood Development
Cleveland State University College of Urban Affairs, class on regional sustainability
Cuyahoga County League of Women Voters
Cuyahoga County Soil and Water Conservation District
Cuyahoga River Remedial Action Plan, Coordinating Committee
Cuyahoga River Remedial Action Plan, Yellow Brook group
Geauga County Soil and Water Conservation District
Headwaters Landtrust
Holden Arboretum
Inter-Community Coalition
Kent Environmental Council
Lake County Farmland Conservation Task Force
Lake County Metroparks
Lakewood/Rocky River Rotary Club
Lakewood United Methodist Church
Lorain County Community College, Public Services Institute
Lorain County Soil and Water Conservation District
Medina County Soil and Water Conservation District
Metroparks Serving Summit County, Seiberling Naturealm
Northeast Ohio Areawide Coordinating Agency, Environmental Advisory Committee
Northeast Ohio Four County Regional Planning and Development Organization (NEFCO)
Northeast Ohio Land Trust Coalition
Northeast Ohio Regional Alliance
Ohio Environmental Protection Agency, Northeast District office staff
Ohio Environmental Protection Agency, Division of Surface Water
Ohio Student Environmental Action Coalition
PLACE (Portage Land Association for Conservation and Education)
Portage County Environmental Roundtable
Portage County Soil and Water Conservation District
Shaker Lakes Nature Center
Sierra Club Northeast Ohio Group
Sierra Club Portage Trails Group
Tinkers Creek Land Conservancy
Western Reserve Resource Conservation and Development Council
EcoCity Cleveland
3500 Lorain Avenue, Suite 301, Cleveland OH 44113
Cuyahoga Bioregion
(216) 961-5020
www.ecocitycleveland.org
Copyright 2002-2003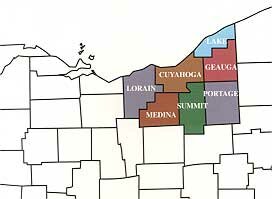 Study area: The Bioregional Plan focuses on Cuyahoga County and the six surrounding countiesLorain, Medina, Summit, Portage, Geauga, and Lake.