Recommendations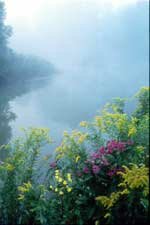 and next steps
The Citizens' Bioregional Plan for Northeast Ohio recommends that we change our thought and practice in the following ways:


Adopt a new vocabulary to describe the region. The old vocabulary describes an old urban core competing against new suburbs and outer counties. The new vocabulary describes a network of high density centersurban cores, edge cities, Western Reserve townsexisting in balance with open space and rural areas.


Maintain and redevelop existing cities and towns. Much of the region's new housing construction could occur as infill development in existing urban areas or as conservation development subdivisions adjacent to town centers. Rural development programs should enhance the viability of family farms.
Begin a major campaign to preserve open space. Now is the time to create an Outer Emerald Necklace for the next generation. If we wait much longer, the land will be gone. A parallel effort should work on improving urban parks and increasing public access to Lake Erie.
Change transportation priorities. Transportation investments should promote quality of life in existing urban areas by creating great public spaces that are not dominated by cars. The urban centers of the region should be efficiently linked by alternative modes of transportation, such as light rail.
Create new partnerships at the regional level. These partnerships should include not only citizens and organizations in Northeast Ohio, but also the State of Ohio, which must realign its policies to support urban redevelopment and open space protection.
Follow-up activities
Given the limited resources of a small, nonprofit organization, EcoCity Cleveland staff worked hard to make this Bioregional Plan as accurate and insightful as possible. But there were a number of limitations to our analysis, many of which were raised in our public review meetings:
Old data: We had to rely on Census data from 1990. This probably makes our analysis conservative, since the pace of low-density development in rural areas seems to have accelerated since then. (In other words, things may be worse than our maps indicate.) After the next Census in 2000 it will be interesting to run the numbers again.
Small region: For practical reasons our analysis was confined to seven counties, an area that does not include the entire bioregion. We would like to expand our coverage to pick up all the Grand River and Vermilion River watersheds. And we need to look at how development pressure is building farther out in the region, such as in Ashtabula and Wayne counties.
Lands at risk: Our analysis could be refined with more detailed information on land sales, building permits, and infrastructure facilities plans.
Forests: Large, intact areas of mature forest are of critical ecological importance in the region. Much of our forested areas have already been developed or cleared for farming, and much of the remainder is fragmented into small woodlots. Many native species of animals cannot survive in such a fragmented landscape. Migratory songbirds, for instance, need to nest deep in the woods to avoid predators. Our current open space map would protect forest lands along stream corridors, but we'd like to refine our analysis to include other areas where the large forest area still exist. Similarly, we need to do more work to map important wetland resources.
Farmland: We need a more sophisticated analysis of farmland and soil quality so we can prioritize where to focus farmland preservation efforts.
Urban parks: Our analysis of open space and parks was at a broad, regional scale, so it was impossible to map smaller urban parks. It's important not to overlook urban greenspace, since it contributes so much to quality of life in cities. We also need to support plans to connect parks and open space with linear trails and greenways.
Lakefront access: We need a detailed, regional analysis of how to improve access to Lake Erie. It's a tragedy that public access to our greatest natural resource is so limited.
Industrial land: We would like to include an analysis of where new industrial development should be located. Presently, there are many scattered areas of industrially-zoned land throughout the region, as every community feels the need to have an industrial park for tax base. It's not clear whether we have the right kind of land in the right locations to permit sustainable economic growth while promoting reinvestment in existing urban areas where jobs are needed.
Impervious cover: One of the most serious impacts of development is the creation of impervious surfaces (roads, parking lots, rooftops) that cause stormwater runoff problems. We need analyses of impervious cover for the watersheds of every stream and river.
Transportation: We need a much finer analysis of what kinds of transportation investments will improve quality of life in each community.
Many of these tasks are technically complex and will require substantial resources. Ultimately, a detailed bioregional plan should be the work of our public planning agencies and a program of complete and meaningful public involvement.

This bioregional plan is a work in progress—a dialogue with citizens throughout the region. In the coming months, EcoCity Cleveland will be following up on the plan's recommendations, working with citizens' groups in all seven counties, and educating elected officials.
Here's how you can help:
Endorse the plan personally and help us collect endorsements from organizations.
Get involved in the land use planning for your community, and give copies of the Bioregional Plan to your public officials. Tell them this is what you want for our region!
Keep sending us your comments and ideas.
Get to know the bioregion better, and think about how your own actions impact your home territory.
EcoCity Cleveland
3500 Lorain Avenue, Suite 301, Cleveland OH 44113
Cuyahoga Bioregion
(216) 961-5020
www.ecocitycleveland.org
Copyright 2002-2003
Elegant solutions predicated
on the uniqueness of place
In the age of cheap energy we did not pay much attention to locality. Waste—call it ecological incompetence—was subsidized by cheap fossil energy. But in the century ahead, powered by sunlight, we must learn how to rebuild communities and develop in ways that preserve distinctive features of landscape, local ecology, and culture. We will need "elegant solutions predicated on the uniqueness of place," in John Todd's words. Elegance in this sense means:
Architectural design that fits the ecologies of particular places.
Landscape design that preserves open spaces, pockets of wilderness, wildlife corridors, biological diversity, and agricultural lands.
Public policies that promote efficiency in the use of materials and energy.
Urban design that enhances community cohesion and real prosperity.
Economic accounting that includes all costs.
In the decades ahead the rewards will go to the ecologically competent who understand their places and regions.
David Orr,
professor of Environmental Studies
at Oberlin College