Tapping into renewable
energy resources at home
The following explanation of renewable energy and its benefits appears on the Web site of Green Energy Ohio, the nonprofit group that helps Ohioans learn about renewable energy.
There are many different kinds of energy that can be considered "renewable." But what is renewable? It refers to a source of power that cannot be used uprenewable energy is replaced at the same rate as it is used.
For example, wind power technologies use but do not deplete the wind, so they are renewable. Fossil fuels like coal take many centuries to form, and are being used much more quickly than they can be replaced. Fossil fuels are not a renewable form of energy.
Renewable energy is clean energy. While fossil fuels emit many pollutants like sulfur dioxide, nitrogen oxides, and carbon dioxide, as well as heavy metals and other dangerous byproducts, renewable sources of power generally have few if any emissions. This is important, because as humans use more and more power in daily life, the impacts of these pollutantsincluding acid rain, smog, and global climate changecontinue to grow.
There is another characteristic that is often assumed when people talk about renewable energy: environmental impact. Most renewable forms of power have minimal environmental impacts. Some forms of power, like large-scale hydro power, can be renewable but still be environmentally harmful. So, both a power source's potential for being renewed AND its environmental impact must be considered along with other criteria like cost and local availability.
EcoCity Cleveland
3500 Lorain Avenue, Suite 301, Cleveland OH 44113
Cuyahoga Bioregion
(216) 961-5020
www.ecocitycleveland.org
Copyright 2002-2003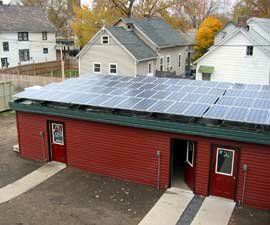 Solar panels on the garages of the Cleveland EcoVillage town homes on W. 58th Street will produce clean energy for ecological living.
Local resources:
To learn more about the state of renewable energy production in Ohio and systems that are available for home use, visit Green Energy Ohio.
Earth Day Coalition's Clean Cities program promotes alternative-fueled vehicle fleets. Read about the program online.
To learn about renewable energy systems (and contractors who do work in an enviromentally conscious manner), call Gary Cole at the Green Contractors Association of Greater Cleveland at 216-544-9001.
To learn about biodiesel fuel, fuel made from vegetable oil that can run your diesel car, truck or boat, at Biodiesel Cleveland.
National Resources:
LEED (Leadership in Energy & Environmental Design) rating system from the U.S. Green Building Council
Renewable Energy Policy Project
Consumer guide to renewable energy for home or business
Rocky Mountain Institute
Real Goods
U.S. Department of Energy portal for energy efficiency and renewables