On the road to a better car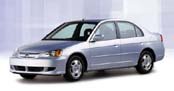 While the introduction of gas-electric hybrid cars promises to reinvent the car as we know it, many people probably will not purchase a hybrid for their next car. That's all right. Plenty of conventional cars on the market offer impressive fuel efficiency and 'super low emmissions' (of carbon dioxide and nitrous oxide particulates that our cars release into the atmosphere, sometimes called greenhouse gases).
Why is it important to consider a car that gets good gas mileage and produces low emmissions? For starters, greenhouse gases contribute to global warminga condition that scientists and people around the globe are alarmed to find has already changed the earth's temperature and is wreaking havoc on plants and animals. As much as 80 percent of our air pollution comes from 'mobile' sources, and the top mobile source of pollution is cars, according to the Environmental Defense Scorecard.
Of course, the most effective way to reduce your pollution is to drive lessmaybe walk to the store or take the bus to workand to live in a neighborhood that gives you the option of walking to destinations that have the things you need on a daily basis.
But, when you must drive, your choice of car can help reduce your personal impact of driving. The following resources will help you select a car that meets your needs of being affordable and environmentally friendly.
Resources
The American Council for Energy Efficient Economy (ACEEE) "Green Book: The Environmental Guide to Cars and Trucks"
U.S. EPA and U.S. DOE Guide to selecting and comparing new cars and trucks based on gas mileage (MPG), greenhouse gas emissions, air pollution ratings, and safety
Top 10 most fuel efficient cars (edmunds.com)
The Detroit Project: Americans for Fuel Efficient Cars
Hybrids: A new breed of car
By now, most of us have heard of (or even driven in) the new breed of carthe environmentally conscious hybrid gas-electric vehicles produced on a mass scale by Honda, Toyota and others.
If you're considering buying one of these snazzy numbers, but you're worried that the 'fad' will pass, don't worry, all signs point to a strong future for hybrids. Honda, for one, has announced its intention to move its entire fleet over to gas-electric motors (there's already a hybrid Civic). And even American auto manufacturers are considering hybrid engines for their SUVs.
To sweeten the deal for the consumer, the federal government is offering a tax incentive for buying a hybrid Honda or Toyota car. According to the IRS, if you purchase a hybrid vehicle before the end of 2003, you will receive up to a $2000 tax credit. This year is the final year for the full tax credita credit you can use to reduce the bottom line of your taxes. After 2003, a partial credit is available. You can receive up to $1500 if you purchase a hybrid in 2004 and up to $1000 in 2005.
So, not only will you save money at the pump by getting upwards of 50-60 mpg in your hybrid (and lowering your emissions to a microscopic rate), you'll get paid by Uncle Sam to drive the car of the future.
Alternative Fuel-Vehicle Resources
U.S. EPA's site on diesel, electric, 'flex-fuel' and fuel cell cars
Biodiesel ClevelandLocal entrepreneur Ray Holan is producing biodiesel vehicle fuel for demonstration projects (for NASA, RTA, Great Lakes Brewing Co, and the Coventry Magic Bus). Biodiesel is made from waste grease (oil that your McDonald's fries are cooked in) or virgin plant oils such as soybean. Contact rayholan@mindspring.com.
EcoCity Cleveland
3500 Lorain Avenue, Suite 301, Cleveland OH 44113
Cuyahoga Bioregion
(216) 961-5020
www.ecocitycleveland.org
Copyright 2002-2003