From rust to green
Can Cleveland become the country's eco-capital?
The following article about Cleveland's sustainability movement appears in the January 2003 issue of Metropolis magazine. The New York-based, nationally distributed magazine features articles on architecture, culture, and design.
By Tess Taylor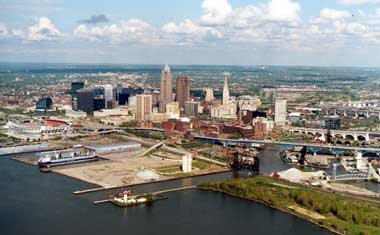 Let's face it: Cleveland has had serious image problems. This sprawling Rust Belt remnant, dotted by defunct blast furnaces, has hardly lived up to its nickname, "The Forest City." Its deserted downtown prompted one artist to claim, "There is no creativity in Cleveland." But the city's inhabitants are about to prove the former tag line and disprove the latterCleveland is on the verge of reinventing itself as a haven of sustainability.
Manda Gillespie, program manager for the advocacy group EcoCity Cleveland, admits that she and her fellow Clevelanders are ambitious. "We'd like to see Cleveland become the country's capital of green," she says.
Cleveland? The city whose Cuyahoga River was once so polluted that it caught fire? Gillespie's vision may come as a surprise to outsiders, but Cleveland's burgeoning environmental movement is intent not only on reshaping the city but on using green development as its engine for growth. Gillespie says she can hardly keep track of the ecologically friendly projects under way. The city is writing green building standards, funding green renovations of public schools, and developing a county "green print" for zoning. Ground was recently broken at [the Cleveland] EcoVillage, one of the most comprehensive green communities yet to hit the Midwest. The development will include a revamped transit hub, community gardens, and energy-efficient town houses. The head of the Cuyahoga Planning Commission, Paul Alsenas, is championing a plan to double open space around Cleveland with hiking and bike paths, and city planning director Chris Ronayne is examining a plan to reroute the arterial highway that has blocked public access to Lake Erie for decades. There's even an idea in the works to put a living roof (complete with sustainably managed vegetation) on the top of the city hall.
What brought about this extraordinary level of environment consciousness? "It's hard to pinpoint," Gillespie says. "It's time to make way for new industries, and green design is the future. People are informing themselves about architecture. They get it: they grew up with bad planning and want change. We've seen some of the worst, and we won't go back there."
Alsenas is confident that sound environmental choices will serve as economic drivers for a region that has sorely lacked them. "Designing a role for nature in the community is key to quality of life," he says. "To really develop, we need more than just our orchestra and our sports teams. Those things only take us so far. We know that human and economic systems function best in environmentally healthy places."
"Cleveland is a real testing ground for sustainability," says Sadhu Johnston, director of the Cleveland Green Building Coalition, which is spearheading the movement. "It's easy enough for a place with unlimited resources to invest in something green. But Cleveland is a working-class city. When people see ecologically friendly development becoming the growth engine here, they really sit up and take notice." When Johnston first organized a lecture about green design three years ago, more than 300 people showed up. "It was standing room only," he says. "I think it's safe to say we tapped an unmet need."
"People are seeing how much opportunity the environmental movement holds," Johnston adds. "They're saying, 'This is how we're going to be competitive. This is how we'll attract business.' People sometimes write off the region. But soon they'll look at Cleveland and say, 'Oh, that's how the Rust Belt comes back.'"
Copyright 2003 Metropolis magazine
EcoCity Cleveland
3500 Lorain Avenue, Suite 301, Cleveland OH 44113
Cuyahoga Bioregion
(216) 961-5020
www.ecocitycleveland.org
Copyright 2002-2003