Few elected officials can have more impact than a big city mayor. As the chief executive of a municipal corporation, a mayor can mobilize thousands of employees and huge budgets. By bringing citizens together around a shared vision, a mayor can inspire civic energy and a sense of community. By being receptive to new ideas, he or she can turn a city into a laboratory of innovation. By reaching out beyond the boundaries of the city, he or she can provide leadership for an entire metropolitan area.
In November 2001, Cleveland voters elected Jane Campbell to succeed Mayor Michael R. White, who ran the city for the past 12 years. It's a time of reflection for the city. It's a time to remember how far Cleveland has come since the dark, Rust Belt days of the '70s and '80s. And it's a time to consider the many challenges that remain reviving an urban school district, stemming the loss of manufacturing jobs while creating a setting for high-tech companies of the future, dealing with the social problems of concentrated poverty, and competing for resources and investment as a smaller political player in a complex region.
In this article, we offer some ideas for the new mayor. Throughout the recommendations, we stress the importance of environmental progress making the city more livable and creating a more inviting setting for sustainable economic development.
Responsibility to be green
It's not only in the city's interest to become greener, it is the city's responsibility. Around the world, there's a growing recognition that cities are responsible for their "ecological footprints" their impacts around the globe on ecosystems and societies from wherever they draw food, materials, energy or other resources. International declarations on sustainability, from Agenda 21 (the document of the Rio Earth Summit of 1992) to the Habitat Agenda (the document of the second United Nations Conference on Human Settlements held in Istanbul in 1997), all point to the key role of cities.
The role of Cleveland is to become a green city on a Great Lake a city of the Water Belt, not the Rust Belt. The transformation will be exciting and will require everyone's participation and creativity. The hope is that cities like Cleveland can become human habitats that offer a high quality of life without diminishing the prospects of the rest of the planet.
The EcoCity agenda for Cleveland
To move Cleveland ahead as an ecological city, the next mayor will have to address many new issues. The following list emphasizes a regional context for planning, the importance of high quality urban design, and programs that make it easier for residents to reduce their environmental impacts.
Air quality: The Bureau of Air Pollution Control needs help to become a tough and fair enforcer of air pollution laws. In addition, the new mayor can help lead regional efforts to reduce vehicle emissions, the largest source of some air pollutants. As a matter of environmental justice, the city should work to reduce the disproportionate pollution impacts on communities of low-income and minority residents.
Climate change: The city should join other cities that are committed to reductions in greenhouse gas emissions.
Diversity: Natural ecosystems with lots of species diversity tend to be more resilient than monocultures. Similarly, cities characterized by diversity, tolerance, and openness to new ideas will be more successful.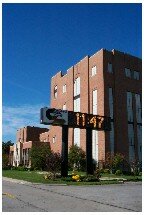 Energy: Other cities are committing to purchasing power from clean, renewable sources. Cleveland Public Power should have a strong role in promoting alternative energy, as well as helping customers conserve energy. The city can also promote the local, small-scale generation of power from wind turbines, solar cells, and fuel cells.
Green building: The city can adopt green building codes that promote the construction of buildings that consume less energy, produce less waste materials, and have healthier indoor environments. The next mayor can insist that city buildings incorporate green building techniques, and he or she can encourage the Cleveland Public Schools to use green building techniques in its $835 million rebuilding and renovation program.
Greenspace: The new mayor should champion the greening of Cleveland, with new greenways, better parks, and restoration of degraded natural areas in the city. The Cuyahoga County Planning Commission's greenspace plan offers many good ideas.
Infrastructure: The city needs a better management system for the preservation and maintenance of public works infrastructure. This should lead to the creation of an annual five-year capital improvement program.
Leadership: The new mayor should be a cheerleader for ideas and initiatives that will help reposition Cleveland as a green city. And the mayor should reach out to a new generation of community leaders who have the fresh ideas to make this happen.
Neighborhood character: The emphasis should be on promoting redevelopment of the city that is truly urban in character (compact, walkable neighborhoods with a relatively dense mix of housing and commerce) and that offers an alternative to suburban sprawl. To make higher-density neighborhoods livable, amenities such as parks and public buildings need to be wonderful places that are part of the everyday lives of residents.
Public health: Cleveland's public health department needs upgrading if it is to deal with serious issues like childhood lead poisoning, asthma, and air pollution. The city also can do more to partner with groups around the Great Lakes who are trying to reduce health risks from toxic chemicals, such as pesticides, that interfere with reproductive, neurological and immune systems.
Regionalism: The next mayor must be able to work collaboratively in complex regional environment. Many of the biggest issues facing the city can only be addressed at the regional scale with many partners.
Smart growth policy: The new mayor should work with other mayors across Ohio to promote smart growth policies at the state and federal levels policies that redirect public investments to support the redevelopment of existing cities and towns. One priority should be funding for a land assembly strategy that focuses on creating large parcels for industrial/commercial development, primarily on existing brownfields.
Sustainable jobs: The city should work with local business groups, universities and nonprofit organizations (such as the Cleveland Industrial Retention Initiative and the Westside Industrial Retention and Expansion Network) to promote innovative companies that help people save energy, reduce waste, and prevent pollution. Cleveland can be part of a broader effort in the Great Lakes region to become a center of environmental technology.
Transportation choices: The city should work with the Greater Cleveland RTA and other partners to coordinate land use planning with transportation investments. The goal should be the creation of mixed-use neighborhoods where transit, biking, and walking are real options. This needs to be supported by street designs and traffic engineering that reduce the domination of the automobile.
Water quality: Cleveland should celebrate its location on the Great Lakes and loudly support efforts to improve water quality legislatively and in local practices, such as programs to reduce stormwater pollution. The city also can continue working closely with the regional sewer district to reduce combined sewer overflows that contaminate Lake Erie beaches with bacterial pollution.
Waterfront: Every effort should be made to increase public access (both the quantity and quality of access) to the lakefront, riverfront and urban creeks. Dike 14, the dredge disposal facility at the foot of Martin Luther King Boulevard, presents a special opportunity to create a great new lakefront park and natural area. Burke Lakefront Airport also should be studied as a possible park location.

EcoCity Cleveland
3500 Lorain Avenue, Suite 301, Cleveland OH 44113
Cuyahoga Bioregion
(216) 961-5020
www.ecocitycleveland.org
Copyright 2002-2003