Great Lakes Brewing-up
a zero-waste initiative
The Cleveland-based Great Lakes Brewing Company is becoming a local leader in thinking about how business can become more sustainable. Here is a recent statement explaining the company's commitment.
Since our founding, the Great Lakes Brewing Company has maintained a commitment to operate in an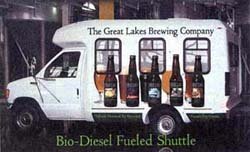 environmentally responsible manner.
In 2001, we launched our Zero Waste Initiative to minimize energy and resource use and maximize materials reuse. Our ultimate goal is to mimic nature, where 100 percent of resources are used in closed-loop ecosystems. Nature generates zero waste.
The health of Northeast Ohio's waterways is of particular concern since our beer is over 90 percent water. Conventional food production generates huge amounts of chemical pesticides and fertilizers which drain into and pollute our waterways. Moving toward local and organically-grown products is one way we can minimize the environmental impact of our own activities, while at the same time enhancing the quality and taste of our food and supporting local businesses.
Much of what we throw away contains an incredible amount of usable raw materials. If we simply dump "waste", we're not just polluting our planet. We're throwing money down the drain. Smart business decisions can simultaneously help clean up the environment while increasing profits.

We identified our raw materials and waste streams, and are examining ways to reduce, reuse and recycle throughout the life-cycle of our products. This includes working with current suppliers to provide more earth-friendly raw materials and products as well as recycling our wastes into new products.
GLBC Zero Waste Projects

The Bio-Diesel Fueled ShuttleWe have purchased a shuttle that will use a diesel fuel made from our discarded fryer grease used in the restaurant. This new vehicle will replace our present shuttle, "The Vatmobile," and we are excited about this shuttle for a number of reasons. We are producing our own bio-diesel that runs 30 percent cleaner than conventional diesel fuel, it's 100 percent recycled and is made in America. [NASA Glenn Research Center and the Coventry Bus is using the same bio-diesel to run their respective circulator routes. NASA's labs are close to where the shuttle busses are housed and the cleaner burning bio-diesel will help maintain a cleaner environment for the lab area].
Spent GrainUsed as growing medium for gourmet mushrooms, ingredient in bread and pretzels and feed for dairy and beef cattle; being tested as a soil amendment by local vegetable growers.
Spent Yeast and HopsFormerly disposed through the sewage system, a centrifuge now separates yeast from the beer and spent hops ("trub") is collected from the tank. Both are mixed with spent grain for cattle feed.
Local, organically-grown beefCattle are raised on feed containing our spent grain. The farmer uses no hormones, animal by-products or antibiotics.
Local, organically-grown produceDeveloping partnerships with local growers to use spent grain, yeast and hops to grow vegetables and fruits; researching feasibility for locally-grown hops.
Cardboard, Glass, PaperRecycling of these materials have reduced trash removal fees by 40 percent.

Water RecyclingThe bottling line recycles water for final bottle rinsing.
Energy Efficiency and Renewable EnergyConducted a complete energy audit and have implemented energy efficiency measures; exploring feasibility of solar, wind and co-generation.
We have just begun our journey toward zero waste and are partnering with many individuals and organizations to discover new solutions. The process is challenging, creative, enlightening and fun. Please share your ideas with us and launch your own zero waste projectsboth at home and at work.
Our planet is depending on us.
EcoCity Cleveland
3500 Lorain Avenue, Suite 301, Cleveland OH 44113
Cuyahoga Bioregion
(216) 961-5020
www.ecocitycleveland.org
Copyright 2002-2003