Building as teacher
The Cuyahoga Valley Environmental Education Center (CVEEC) recently opened the November Lodge, a new activity center that not only provides needed space but also teaches environmental responsibility with ecological design.
Designed by the local firm of Schmidt Copeland Parker Stevens, the lodge contains a large multi-purpose room, an art room with sky lights to allow for natural day lighting, breakout areas, a computer lab, lending library, and a staff meeting area. It also includes the following environmentally sustainable features:
Site selection: A previously disturbed site that would result in a minimum of new disturbance, as well as allow utilization of existing utility and vehicular connections, was selected for the site of the new building. The siting also enabled an obsolete tennis court to be restored into a natural area as part of the project.
Building orientation: The building is oriented to achieve optimum passive solar gain, daylight benefits to interior spaces of the building, and cooling from cross ventilation.
Landscaping: Energy demands are reduced by strategically placed plantings to affect micro-climate around the building. Evergreen trees on the northwest side of the building provide a wind break and buffer from cold weather. Deciduous trees on the south side provide summer shading. Native and indigenous plantings support biodiversity and utilize less water and fertilizers.
Building design: Windows and public gathering spaces on the south side of the building and a minimal use of windows on the north side reduces the energy demand on the building.
Recycled materials: Structural framing in the multi-purpose room utilizes timbers that have been recycled from demolished structures.
Renewable resources: The heating and cooling of the building utilizes geothermal energy. Daylighting within interior spaces is achieved with the orientation of the building, window placement, utilization of clerestory windows and sun tube sky lights. Interior fans and natural ventilation reduce the need for mechanical heating and cooling. Wood veneer doors are from timber production that is considered a renewable resource.
Local materials: Utilization of local building supplies and natural materials reduce transportation (energy consumption) and contribute to the local economy. Masonry and wood trim for the building are locally produced utilizing locally obtained materials.
Structural materials as finished materials: Exterior masonry walls have been painted on the inside face, allowing a structural element to double as a finished surface. This treatment reduces building components and consequently conserves resources.
Life-cycle considerations: Forty-year roofing shingles are used to maximize the life span of the shingles. Durable materials save energy costs for maintenance as well as for the production and installation of replacement products.
Energy conservation: Low-flow toilets and faucets promote resource conservation. The heating and cooling system is zoned to tailor requirements to the specific areas of the facility. Exhaust and ceiling fans reduce summer cooling demands. Energy-efficient fluorescent lighting is used throughout the building. Insulated glass in windows was selected to reduce energy demands.
Eliminate pollutants: Insulation material selections do not contain chlorofluorocarbons or hydrochlorofluorocarbons that deteriorate the ozone layer. Paints, stains, and varnishes were selected to avoid materials that off-gas volatile organic compounds and contribute to indoor air pollution.
The CVEEC is a 128-bed educational retreat facility located on a 500-acre site in the heart of the Cuyahoga Valley National Recreation Area. It was created out of a partnership between the recreation area and the Cuyahoga Valley Association.
For more information about November Lodge, call the environmental center at 330-657-2796 or Schmidt Copeland Parker Stevens at 216-696-6767.

EcoCity Cleveland
3500 Lorain Avenue, Suite 301, Cleveland OH 44113
Cuyahoga Bioregion
(216) 961-5020
www.ecocitycleveland.org
Copyright 2002-2003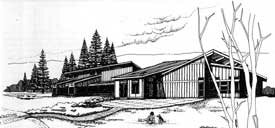 November Lodge