McKenzie House
1843 W. 45th St.
Cleveland, Ohio
Located in the historic Ohio City neighborhood of Cleveland, Ryan and Miriam McKenzie's home has incorporated many green-building features into its construction. A major goal was to reduce energy costs and waste. The house is built using recycled materials and is equipped with an array of energy-saving methods for electricity, heating, cooling and ventilation. Ryan hopes it will be the most energy-efficient house in Cuyahoga County, if not the entire state. Construction will be completed in Summer 2004.
Ryan, who is on the staff of EcoCity Cleveland, also plans to build a second home on his city land bank lot. The second home will use different materials, but will showcase a variety of green building principles.
Sustainable Sites
House is located on an existing lot in an inner-city neighborhood and can be considered infill housing which does not contribute to suburban sprawl
Water Efficiency
Energy and Atmosphere
Photovoltaic solar panels with net metering to Cleveland Public Power grid
Energy-efficient fluorescent lighting
Roof-mounted solar-thermal collectors to heat water for space heating and domestic hot water use (the house has no furnace)
Hot water storage tanks with 240-gallon capacity to store heat (one tank has electric backup power to heat water)
Radiant floor heating
Passive solar heating using large windows on the south wall to allow sunlight to enter for heat in the winter and an overhang over the south wall to block the sun in the summer
Super sidewall insulation using EPS Foam with an R-30 rating; roof has EPS foam for R-50 rating
Double-paned, low-E windows for energy conservation
Gravity-film heat exchanger that uses heated wastewater from sinks, showers, and bathtubs to preheat water supply coming solar storage tanks
Ventilation channels for hot air to escape and pull in cool air in the summer
Air-to-air heat exchanger to preheat cold fresh air with warm stale air from inside the house
Materials and Resources
Framing composed of largely recycled steel from Northeast Ohio
Reused wood flooring and doors from Habitat for Humanity
Shower, bathtub, tile, windows, molding, and light fixtures are surplus from Habitat for Humanity
Stained concrete slab floor to eliminate need for additional finishing materials
Fiber cement exterior siding made of wood waste and cement lasts a long time and requires less painting
Indoor Environmental Quality
No carpeting to minimize the release of volatile organic compounds
HVAC air filtration and controlled fresh air intake

Contact:

EcoCity Cleveland
3500 Lorain Avenue, Suite 301, Cleveland OH 44113
Cuyahoga Bioregion
(216) 961-5020
www.ecocitycleveland.org
Copyright 2002-2003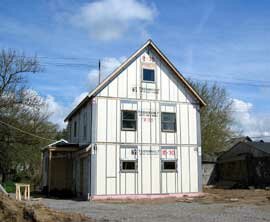 The McKenzie house in Cleveland will be one of the most energy-efficient houses in Ohio.

Large tanks store hot water for heating and use.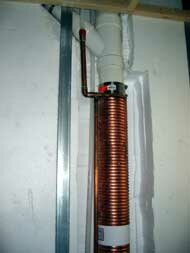 Heat exchanger captures heat from wastewater.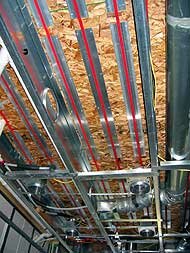 Red tubes carry hot water for radiant floor heating.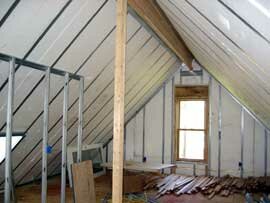 Foam panels in roof and sidewalls provide exceptional insulation.