Kids at Zone Rec workshop show imagination and zest for change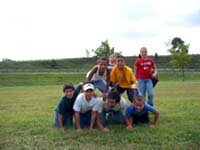 The Zone Recreation Kids Group were creative as kids can be. But they were also very insightful and full of boundless innovation.
It was the kids group that brought up the point that there is no food places in or near the zone recreation greenspace neither street vendors selling ice cream and hotdogs nor restaurants selling meals. And, as we all know, when you play you get hungry.
This group also showed a real innate understanding for integrating nature with the flow of human activities. This is a group that could love paths, understood the power of water and advocated hard for treehouses. This is also a group that did not worry about what could NOT be done, but focused on the many details of a place that would inspire all that came.
The kids group had these suggestions:

An area that would be like an amphitheater, as well as providing more seating around the playing fields
Obstacle course/tree house/tree bridge system integrated with the north side of the greenspace. This would be an expansion of the existing obstacle course, which is currently a dozen tires laying on the ground.

A place to buy light refreshments and/or bait for a fishing pond.

A place to go for peace and quiet

Constant emphasis on the green space
Pathsbeautiful, fun, inviting paths all throughout the site

Site lines to the train that runs below the site

Water slides and fountains where people could play and splash

Gardens

More drinking fountains throughout the site

Toilets accessible from outside

A skateboard area
EcoCity Cleveland
3500 Lorain Avenue, Suite 301, Cleveland OH 44113
Cuyahoga Bioregion
(216) 961-5020
www.ecocitycleveland.org
Copyright 2002-2003