RTA puts green design on track
When the new RTA W. 65th Rapid Station opens in Summer 2004 it will be the hub of Cleveland's EcoVillage community and a showcase for EcoVillage principles of ecological design, green building, and transit-oriented development.
RTA had considered permanently closing the old W. 65th station, which was decrepit and inaccessible. But neighborhood interest prompted the transit authority to build a new station that would attract riders. Then the presence of the EcoVillage project in the neighborhood inspired RTA to explore a green design and additional development opportunities adjacent to the station.
RTA architect John Goodworth was inspired by former EcoVillage director David Cornicelli to design a station with many high-performance features. RTA has also discovered that being eco-friendly doesn't have to cost more money, as the station is coming in under budget.
Here are some of the green highlights of the project:
Site selection and land use The stop will re-use the land on which the former stop stood, and site disturbance will be further minimized by building most of the station over a ravine. The site will promote intermodal transportation by providing direct access to bus stops, bike paths, and sidewalks. Parking spaces have been minimized (20 vs. 250 on typical sites) to encourage access by car-pooling and alternative forms of transportation. During construction, care was taken to use filter fabrics to prevent soil erosion. After construction, the site will be revegetated with native plants to restore habitat and reduce stormwater runoff.
Design process Community design charrettes were part of the building and site design process. Local residents gave their input on how they thought the station should fit into and augment their neighborhood. As a result, the station's architecture reflects that of St. Coleman's church nearby (for example, the station roof's light green color mimics the patina of the church's steeples). Ideas about how the building could function as a community-gathering place were also included.
Construction process Re-use of existing foundations, retaining walls, pedestrian walkway, handrails, and drainage system saved money and prevented construction waste from going to a landfill. Unavoidable concrete and masonry demolition waste was pulverized and sold. Over 50 percent of building materials used were purchased from companies within a 500-mile radius of Cleveland to reduce transportation expense and environmental impacts. A female owned and operated construction company did the job.
High-performance features The station takes advantage of passive solar design with large, south-facing glass windows to capture as much daylight as possible. Deciduous trees will be planted in front of these windows to reduce the heat gain in the summer but still capture sunlight in the winter. Energy consumption will be further reduced using radiant heating, thicker and more insulated walls and roof, and flooring materials that will retain heat in the winter. Building system sensors will ensure that the building is operating as it was intended. High-efficiency toilets and fixtures will conserve water. And air quality will be improved by using paints, sealants, adhesives, floor coverings and wall surfaces that do not off-gas harmful chemicals. In addition, many of the building materials contain recycled content, including the recycled steel for the roof and portions of the building structure and recycled gypsum for walls.
Innovative design Bicycles will be welcome at the station, and storage for them will be provided. Wheelchair users and other differently-abled people will find accessibility above average. A timing clock posted on the train platform will let riders know when the next train will arrive. Exterior lighting will be focused downward to provide greater safety and reduce neighborhood disturbance and light pollution of the night sky. The project team also came up with an innovative way to make creative use of old tires lying around the neighborhood. Inspired by the concept of straw-bale construction, they stacked the old tires to form the infrastructure of a bench and poured concrete around them to give the benches solidity.
Community connection This Rapid station is meant to be more than a location to catch the next train. Its design invites neighbors to gather, hang out, and connect. The station's large, heated interior includes seating designed to encourage friendly conversation, a community message board, a large mosaic mural created by a local artist, and a space for a small restaurant. A footbridge over the tracks connects the stop to the EcoVillage neighborhood north and south. And RTA plans to build a public plaza that will connect the station with Lorain Avenue and the Michael Zone Recreation Center, as well as give the station greater visibility and serve as an outdoor gathering space.
For more information, contact RTA's .
EcoCity Cleveland
3500 Lorain Avenue, Suite 301, Cleveland OH 44113
Cuyahoga Bioregion
(216) 961-5020
www.ecocitycleveland.org
Copyright 2002-2004
Back to main Rapid station page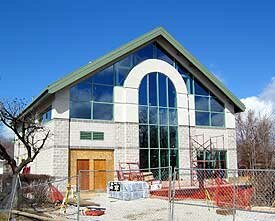 The new W. 65th/EcoVillage Rapid Station under construction.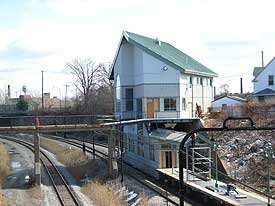 View of the new station from the rear, showing Rapid tracks and pedestrian bridge.