A bold, exciting vision...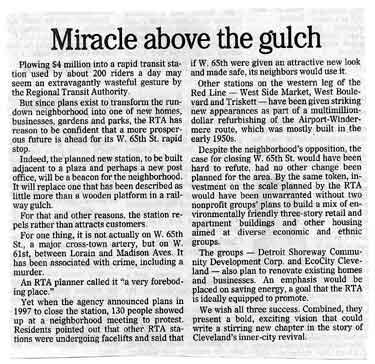 The Plain Dealer, November 8, 2000 (lead editorial)

&a model for urban redevelopment
In November, 2000, the Cleveland EcoVillage project received a special Church in the City award from the Commission on Catholic Community Action and Cleveland Bishop Anthony Pilla. The Commission recognized the EcoVillage for being:
&a model for urban redevelopment that addresses environmental, economic, and social problems that impact the entire region. We salute EcoCity Cleveland and the Detroit Shoreway Community Development Organization for involving neighborhood organizations and churches, as well as professional consultants, politicians, and business leaders in the planning process that has strengthened and empowered the Detroit Shoreway community. The project fully demonstrates the Church in the City concept of people working together toward a greater good.
EcoCity Cleveland
3500 Lorain Avenue, Suite 301, Cleveland OH 44113
Cuyahoga Bioregion
(216) 961-5020
www.ecocitycleveland.org
Copyright 2002-2003
Back to Rapid station
Back to main EcoVillage
"The groupsDetroit Shoreway Community Development Organization and EcoCity Clevelandalso plan to renovate existing homes and businesses. An emphasis would be placed on saving energy, a goal that the RTA is ideally equipped to promote. We wish all three success. Combined, they represent a bold, exciting vision that could write a stirring new chapter in the story of Cleveland's inner-city revival."