Suggested ecovillage books
The following is a jumping off point for books that the Cleveland EcoVillage Book Club might consider
Superbia! by Dan Chiras and Dave Wann is a book of practical ideas for creating more socially, economically, and environmentally sustainable neighborhoods. It is about remaking suburban and urban neighborhoods to serve people better and to reduce human impact on the environment. The authors first trace the history of the suburbs, showing how they fail to meet many people's needs. They then describe how existing neighborhoods can be transformed, offering cohousing and new urbanist communities as examples. The reader is then guided through the transformation of a fictitious neighborhood that adopts the author's thirty-one steps. Most of the world's population now live in cities, but despite wide agreement on the core values of sustainable societies, municipalities are so busy solving current problems, they don't have the time or resources to plan effective action for sustainability.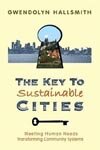 The Key to Sustainable Cities by Gwendolyn Hallsmith uses the principles of system dynamics to demonstrate how today's problems were yesterday's solutions. The book points to a new approach to city planning that builds on assets as a starting point for cities to develop healthy social, governance, economic, and environmental systems.

Sustainable Communities, edited by Hugh Barton, examines the practicalities of re-inventing neighborhoods. Written by an interdisciplinary team of social and environmental scientists, town planners and urban designers. A thought provoking and important contribution to both the theory and practice of the development of sustainable communities.
to add a title to this list.
EcoCity Cleveland
3500 Lorain Avenue, Suite 301, Cleveland OH 44113
Cuyahoga Bioregion
(216) 961-5020
www.ecocitycleveland.org
Copyright 2002-2003