Marinas without walls
The City of Cleveland's lakefront planning process is starting to address the deplorable state of local marinas (see Plain Dealer story). While marinas in other cities contribute to an attractive waterfront, marinas in Cleveland hide behind ugly fences and block public views of the water.
See the photo at right for a view of a typical Cleveland marina. Then see below for views of marinas in other cities.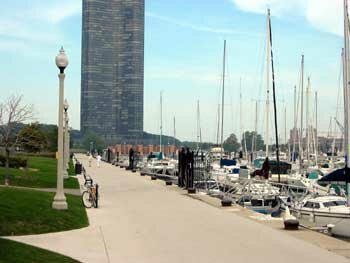 Marina near Chicago's downtown: No fences, just a great view of the boats and the water from the public promenade.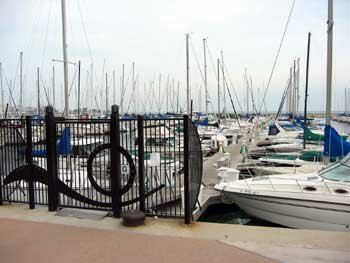 Sensible security: The Chicago marina shown in the first photo restricts access to the boats with attractive gates at the end of the docks.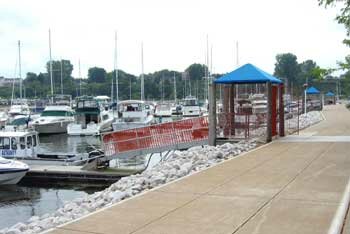 Openness in Erie: A new marina in Erie, PA, is surrounded by an open, public walkway. Dock access is controlled by small gatehouses.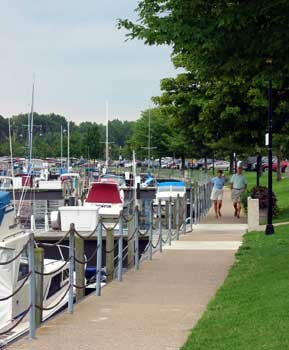 Beautiful Buffalo: Marinas in downtown Buffalo invite public strolling.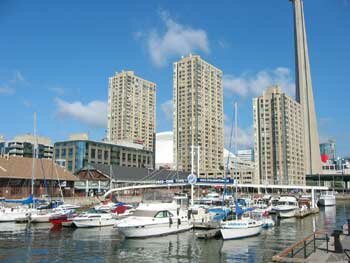 Toronto's lakefront includes marinas with public access all around, including a pedestrian bridge over the top.
EcoCity Cleveland
3500 Lorain Avenue, Suite 301, Cleveland OH 44113
Cuyahoga Bioregion
(216) 961-5020
www.ecocitycleveland.org
Copyright 2002-2004