Harnessing the wind on Lake Erie
Benefits include enhancing Cleveland's image, economy, and environment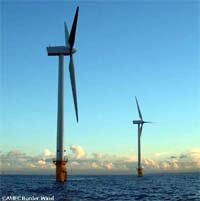 The following proposal to create a 'farm' of wind mills that will generate clean, renewable energy off the Cleveland lakeshore was presented by Green Energy Ohio in December 2002. Green Energy Ohio sponsors projects to help Ohioans learn about how renewable energy works in the Buckeye State and showcases examples of real people using real renewable energy system today in Ohio.
In a recent series of meetings, the public has shown overwhelming enthusiasm for positioning Cleveland's waterfront as a unique, quality-of-life amenity, and as a driving force in promoting economic development. Consistent with both of those goals, Green Energy Ohio (GEO) proposes installing several state-of-the-art wind turbines in Lake Erie approximately the same distance from the shore as the Cleveland Water Crib, offering an aesthetically distinctive yet functional addition to Cleveland's lakefront. An offshore wind park would provide a forward-looking image for the city while creating substantial economic and environmental benefits for the region.
A wind park as a Cleveland image
Wind power is clean, quiet, and increasingly cost-effectiveand is today the fastest growing source of electricity in the world. Large wind turbine development has origins at Cleveland's own NASA Glenn Research Center where research began in the late 1970s. Each machine today can reach up to 360 feet tall and produce up to two megawatts of electricity (enough for about two thousand homes).
Wind turbines for utility-scale generation of electricity are not new to the United States, and they are quite common in Europe. There are several thousand in operation across the U.S., although they are largely in rural and unvisited areas of the country. Despite the rush to offshore wind development in Europe, however, there are currently no offshore turbines in the U.S.
Capitalizing on extensive European experience, Cleveland could become the leader in North American offshore wind park development. The Cleveland Wind Park would become a signature element of the lakeshore, a potential recreational and educational attraction for both on-shore viewing and boat rides on the lake. It would demonstrate that Cleveland is looking to the future with newer, cleaner technology and provide a positive image in people's minds.
Economic and environmental potential
In addition to the positive image described above, as well as clean, locally produced power, a wind park offers potential economic benefits. The design, fabrication, and installation of the wind turbines would create many jobs in the area, and this development would be a good fit with Cleveland's existing manufacturing infrastructure.
Unlike the major areas where wind turbines are currently being installed in the U.S., Cleveland has a skilled industrial workforce, tremendous metalworking resources, and excellent access to rail, sea, and highway transportation routes. Timken Industries and Lincoln Electric are already suppliers to the wind industry, and it is not difficult to envision other and new manufacturers entering the market locally with the development of a wind park.
Furthermore, installing the first offshore wind farm would encourage not only local suppliers but also local expertise that would be marketable in subsequent projects in the Great Lakes region and beyond. Thus, unlike most of the coal and all of the natural gas used here for electricity generation, which are resources that comes from out-of-state, wind offers the possibility of spending money locally.
Each wind turbine installed also reduces the amount of pollution that escapes into our environment with the use of fossil fuels. Ohio is one of the nation's top polluters, and this has led to health risks, environmental damage, interstate lawsuits, and an enduring image of Cleveland as the place where the river burned. Wind turbines produce pollution-free power, and their installation in Lake Erie may even provide artificial reef habitat for spawning fish. Thus, a wind park would offer a new set of images to associate with Cleveland: graceful wind turbines, new industrial development, and clean power.
Steps toward a wind park
Preliminary research by Green Energy Ohio (GEO) into water depth, soil conditions, bird migration, and development costs indicates that offshore development is feasible in Lake Erie. GEO has begun plans to conduct a wind monitoring project in the lake to provide data regarding the offshore wind resources. Although available meteorological data indicate that offshore wind potential on Lake Erie is excellent, these measurements are taken well below the height of modern wind turbines and are sparse. It is critical that more accurate and complete data be obtained in order to effectively predict turbine performance.
Besides gathering data, it is vital to present the concept of wind turbines as a viable and productive option for the city to both the public and those groups or industries with more specific interests in lakefront development. As a second part of the wind park project, GEO plans to engage the variety of groups with interests in Cleveland's lakefront.
Cleveland has a unique opportunity to embrace a new, effective technology. A wind park on Lake Erie would place Cleveland among the first major cities in the U.S. committed to this clean energy sourceproviding a positive boost for the city. Most importantly, a wind park would bring important economic and environmental benefits that few other investments could match.
EcoCity Cleveland
3500 Lorain Avenue, Suite 301, Cleveland OH 44113
Cuyahoga Bioregion
(216) 961-5020
www.ecocitycleveland.org
Copyright 2002-2003