Bioregional Hero Awards 2001
Friends and supporters packed the Steamship William G. Mather on August 2 for EcoCity Cleveland's annual Member Party and Bioregional Hero Awards Celebration.
Phil Star, president of the board of trustees, thanked everyone for another successful year.
"We have been fostering an on-going community conversation about sustainability," Star said. "There are now numerous occasions where community issues are viewed in a regional context, which is a tribute to the work of EcoCity Cleveland."
The highlight of the evening was the presentation of Bioregional Hero Awards to outstanding individuals and organizations who have improved the long-term quality of life in Northeast Ohio by balancing environmental integrity, social justice and economic prosperity.
The 2001 winners are:
Conservationist Greg Studen, for effective leadership of the Chagrin River Watershed Partners, Cuyahoga Countryside Conservancy, Cuyahoga River Remedial Action Plan, and other conservation organizations.
Conservation deal of the year Edison Woods, one of the largest forests remaining in Northeast Ohio protected in a deal brokered by the Trust for Public Land.
Green building Jim LaRue, for many years of inspirational work to promote green building and healthy housing in Greater Cleveland.
Smart Growth development Shaker Square, the renovation of a classic, mixed-use district connected to transit by CenterPoint Properties.
Public official Cleveland economic development director Chris Warren, for more than 20 years of passionate advocacy for city neighborhoods.
Messenger Karen Schaefer of WCPN Cleveland Public Radio, for intelligent reporting on the environment and ecological design.
Best new organization or program Urban Design Collaborative of Kent State University, for bringing fresh design ideas to Cleveland and involving citizens in designing the public realm.
Organizational breakthrough Western Reserve Resource Conservation and Development Council, for securing federal designation and funding that will make the nine-county council a more effective force for conservation in Northeast Ohio.
Visionary Church in the City Land Use Task Force of the Cleveland Catholic Diocese, for creating ethical principles for land use and advancing principles of smart growth.
Each award recipient received a framed copy of our Bioregional Map Poster created by local artist Mary Kelsey.
Thanks to the following for supporting this year's Member Party: the Steamship Mather, ShoreBank, Western Reserve Brewery, and My Personal Chef. The Mather staff deserves special thanks for opening up the ore boat to us. It's a great place for a party.
EcoCity Cleveland
3500 Lorain Avenue, Suite 301, Cleveland OH 44113
Cuyahoga Bioregion
(216) 961-5020
www.ecocitycleveland.org
Copyright 2002-2003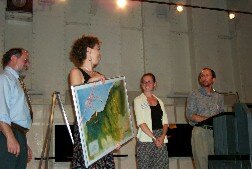 WCPN Public Radio's Karen Schaefer accepts the "Messenger" award from Phil Star (left), Manda Gillespie, and David Beach of EcoCity Cleveland.