Bioregional Hero Awards 2004
Here is EcoCity Cleveland's fifth annual set of Bioregional Hero Awards, given to outstanding individuals and organizations working to improve the long-term quality of life in Northeast Ohio by balancing environmental integrity, social justice, and economic prosperity.
The awards were presented on September 21, 2004, at the grand opening of the W. 65th/EcoVillage Rapid Station. The event was cosponsored by Greater Cleveland RTA and the Detroit Shoreway Community Development Organization.
2004 Bioregional Hero Awards recipients
Public official of the year Paul Alsenas, director of the Cuyahoga County Planning Commission, for leading the Cuyahoga Valley Initiative and inspiring Northeast Ohio to see its future through the 21st-century lens of sustainability. He is helping the region adopt a new language steeped in terms like regeneration, industrial symbiosis, and transformational change.
Smart growth The CiTiRAMA project of the Home Builders Association of Greater Cleveland and the City of Cleveland, for promoting opportunities for residential construction in the urban core to home builders throughout Northeast Ohio and for promoting opportunities to buy new homes in the city to the general public. In its first year, CiTiRAMA enabled the construction of 12 single-family homes by 12 different builders in the Hough neighborhood of Cleveland.
Sustainable business Oatey Co., for setting a leading example in Northeast Ohio for implementing the principles of sustainability and considering the triple bottom line in all aspects of their business improving profitability, restoring the environment, and enhancing the community. Oatey's new warehouse in Cleveland will be a LEED-certified Silver building featuring recycled materials, daylighting, greywater collection and reuse, energy conservation, excellent indoor air quality and wetlands. Award presented in partnership with Entrepreneurs for Sustainability.
Environmental health Kathleen Fagan, MD, MPH, and medical director of the Occupational Health Program at Community Health Partners in Lorain, for many years of combining scientific knowledge and passion for social justice in the service of community and labor organizations fighting for safety, health, and the environment. As president of the boards of both Environmental Health Watch and Ohio Citizen Action, she provides inspiring and authoritative leadership on a host of issues, from lead poisoning to air pollution. Award presented in partnership with Environmental Health Watch.
Green building The DREAM Project of Lorain County, for supporting green building while educating students, county residents, elected officials, and the building industry. Project partners supported vocational students as they designed and built a home that reduces the use of energy and water, while providing healthier indoor air quality and preserving natural resources. Project partners included the Lorain County Joint Vocational School, North Coast Building Industry Association, Lorain County Chamber of Commerce, Lorain County Commissioners' Solid Waste District, and Lorain County Metro Parks. Award presented in partnership with the Cleveland Green Building Coalition.
Visionary Crown Point Ecology Center, a ministry of the Sisters of St. Dominic of Akron, for creating a place where people can connect to the sacredness of the earth and imagine a different way of living. Through educational programs, special events, and organic farming, Crown Point promotes stewardship, community, spirituality, sustainability, and justice.
EcoVillage award Sue Franks and Patricia Williams, for dedicated participation in neighborhood planning for the Cleveland EcoVillage and for leadership in the development of the EcoVillage's community garden. Award presented in partnership with the Detroit Shoreway Community Development Organization.
Special transportation award Greater Cleveland Regional Transit Authority, for the W. 65th/EcoVillage Rapid station, a symbol of hope for Cleveland neighborhoods, a new catalyst for transit-oriented development, and a demonstration of green design in transit facilities.

EcoCity Cleveland
3500 Lorain Avenue, Suite 301, Cleveland OH 44113
Cuyahoga Bioregion
(216) 961-5020
www.ecocitycleveland.org
Copyright 2002-2004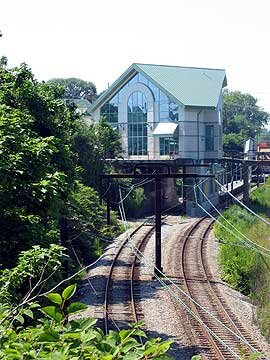 The new W.65th/EcoVillage Rapid station was the site of the 2004 EcoCity Cleveland member party and Bioregional Hero Awards presentation.